In anticipation of one of the most celebrated moments in basketball culture, adidas has announced that N*E*R*D will be performing on the main stage on Friday night alongside a highly anticipated product lineup for 747 Warehouse St in Los Angeles on February 16th and 17th during All-Star Weekend. 

747 Warehouse St Exclusive Product Colorway Drops
Attached photos from left to right, top to bottom
AW Bball AS
Crazy BYW
Crazy BYW X
EQT BASK ADV
FUTURECRAFT 4D

 FUTURECRAFT 4D 2.0 (White)
UltraBOOST Mid Parley
Harden Vol. 2
Y-3 BYW BBALL
Dame 4 BAPE
SPEEDFACTORY AM4

 SPEEDFACTORY AM4 London
 SPEEDFACTORY AM4 LA
  SPEEDFACTORY AM4 Paris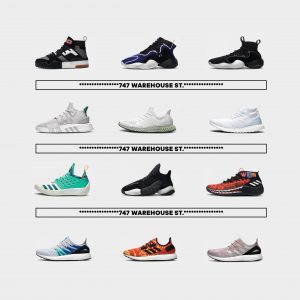 Stay tuned for a full line up of performers.
Tickets to 747 Warehouse St are available for raffle at adidas.com/US/747WarehouseSt