Celebrating fashion and sport, Paris Saint-Germain opens a pop-up shop on Fairfax
Located at the 7th Letter Gallery on Fairfax Avenue, LA Galerie by Paris Saint-Germain will be open from July 23 to 30 and will feature an achingly cool, limited edition product range including Paris Saint-Germain's collaborations with Levi's, Nike, Beats by DRE, skateboards designed in collaboration with Primitive, Jack's Surfboards, as well as exclusive Paris Saint-Germain merchandise in collaboration with colette, the famous Parisian store which opened in 1997.
The boutique opening coincides with Paris Saint-Germain's U.S. pre-season tour and gives the club's West Coast fans the opportunity to connect with the team's hip and vibrant Parisian culture. While in the U.S., Paris Saint-Germain will play matches against Inter Milan, Real Madrid and Leicester City. 
The store will officially open on the evening of July 23 with a exclusive launch event. It will host other events including a photography and poster exhibition and will feature a giant OMY coloring poster specifically created for the store showcasing the famous Parc des Princes stadium alongside elements from Paris and LA culture.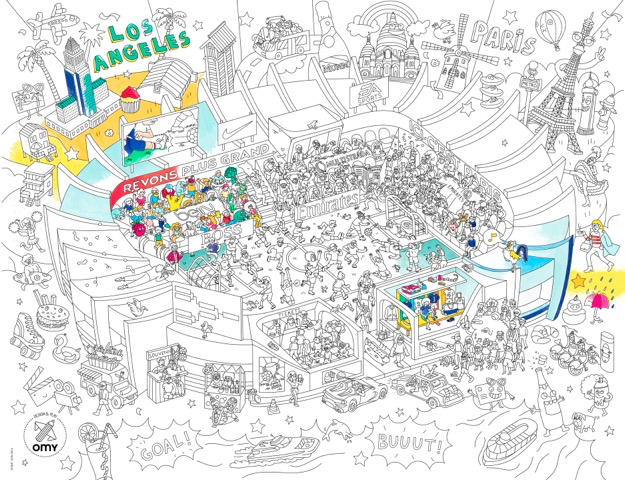 "We couldn't be happier to be back in the U.S. and are excited to be based in Los Angeles," said Fabien Allègre, Paris Saint-Germain Merchandising & Brand Diversification Director. "From matches in California, Ohio and Oregon to our chic store in West Hollywood, we look forward to connecting with our supporters across the U.S. and to continue growing our loyal fanbase here."
"We are excited to launch the next chapter of our collaboration with Paris Saint-Germain and team up with them on their latest tour of the U.S.," said Sarah Andelman, co-founder at colette. "The unique line-up of products offered at the store will infuse Parisian culture and fashion into the heart of Los Angeles." 
Exclusive Products

PSG x LA will feature Paris Saint-Germain inspired products made in California and limited edition collections from the world's biggest brands, including Nike, Beats by DRE and Levi's. Merging the cultures of LA and Paris, items for sale will only be available at the LA pop-up and in the colette store in Paris.
The PSG x LA curated products include a skateboard in collaboration with team Primitive, a Jack's Surfboard, an OMY drawing set, a Jason Markk footwear care set, special artwork by Brasko, iconic colette products available in LA for the first time, as well as other exclusive collaborations to be unveiled.
LA Galerie by PSG is located at 7th Letter Gallery, 346 North Fairfax Avenue, Los Angeles, CA, 90036 fromJuly 23 – 30. It is open from 12pm to 8pm daily.