Dusters California announced its most recent line of skateboards in collaboration with the California Locos, five pioneering Los Angeles artists whose roots are steeped in graffiti, surf, skate, punk rock and the contemporary art world.  This collaboration features five boards that have been carefully designed by each artist and brought to reality by Dusters California, led by creative director and co-founder Nano Nobrega. These new boards will be shown at a variety of summer events, starting off with the premiere event on June 25 in Venice Beach, California.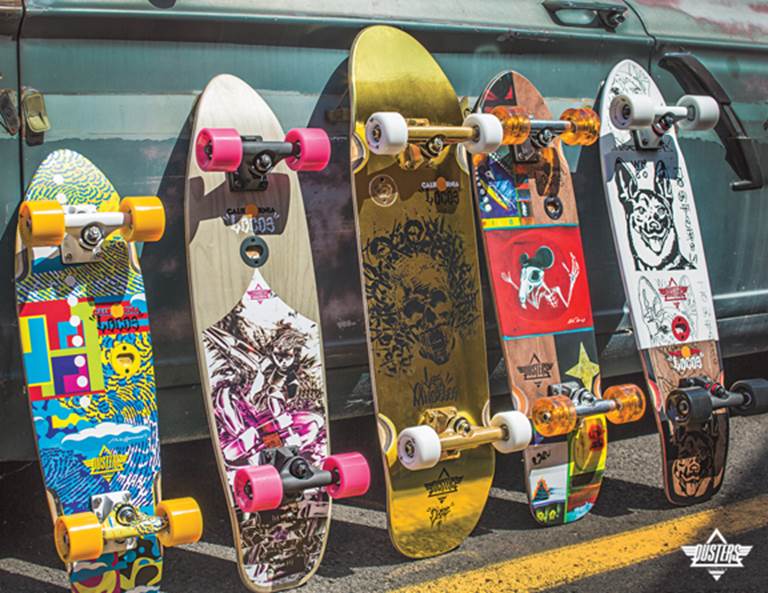 Chaz Bojórquez, Dave Tourjé, John Van Hamersveld, Norton Wisdom, and Gary Wong (pictured below) —the CALIFORNIA LOCOS—represent 50 years of Los Angeles art, each having been influenced and inspired by the surf, skate, music and barrio culture, as well as formal art practice, that has combined and morphed in Los Angeles from the '60s through today. Bojórquez, the godfather of Cholo writing, is an artist among artists that leaves an indelible mark in every project he produces.  Van Hamersveld is legendary for designing iconic record album covers for bands like The Rolling Stones and The Beatles as well as the artist behind the design of the 1966 Endless Summer movie poster. The entire lineup of California Locos is full of artists that have all etched their own creativity into this collaboration.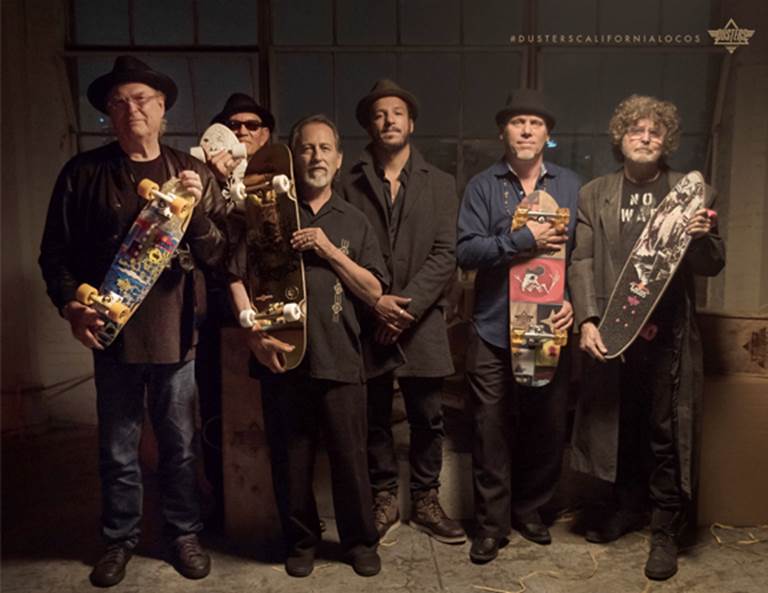 "As a skateboarder, fellow artist and an art lover, I've always thrived when I'm able to work with diverse professional artists that work in multiple mediums, such as photography, paint, cinematography, graffiti, illustration, tattoo, music and so many others," said Nano (pictured above in the center). "This collaboration with artistic icons such as the California Locos is like a dream come true. Dusters California is honored to work with some of the best artists in the world with this new collection."
Dusters California thrives on its artist collaboration boards, as it connects them with the spirit of what started the company to begin with, and has energized the brand over the years. The Endless Summer board, also from Van Hamersveld has been an instant success as well as The Doors and Jimi Hendrix "Purple Haze" editions.  While the company moves forward to offer its customers skateboards that are eye-catching, these collections are what capture the true essence of the brand.
Dusters' roots lie in the cradle of surf and skate culture in the golden haze of California. Bred from the same spirit that was born in the 60's and 70's when skateboarding, surfing and music defined themselves against establishment.  Dusters California is built by a team that understands the functionality of these boards with more than 25 years of experience in the industry. Throughout the years of skateboarding and manufacturing, we learned the importance of the fit and finishes of a skateboard, which can be seen in every single detail of Dusters' boards.
For more information on the event, Dusters California or the California Locos, check out:
Instagram: @dusterscalifornia
Facebook.com/dusterscalifornia