Now that Coachella 2016 has come to a close, the music festival SZN is officially underway.  Next thing you know, it'll be Shaky Beats down in the ATL, Lightning in a Bottle up toward NorCal, then Governor's Ball (NYC), Bonnarroo (Tennessee), and Lollapalooza (Chicago).  Whichever music festival you'll be attending, the odds of it being rad as fuck will be in your favor.
This month, a few of us here at The Render Network were fortunate enough to attend (and survive) this year's Coachella Valley Music and Art Festival in Indio, CA.  So we thought we'd give you a bit of a recap on all the things we seen, heard and experienced while wandering this desert paradise.
There's something about the desert air in Coachella that amplify your sense of enthusiasm for the oncoming festivities.  I don't know if it's simply the excitement for great music ahead, or the fact that the entire weekend acts as a shroud of escape from reality and the pressures of the real world.  Whatever it may, the moment you step onto the festival grounds, you're embraced by that feel good 'chella vibe.
Camping Vibes
I think one of the most interesting (optional) aspects of Coachella is all the outdoor action that goes on outside the festival grounds. While it isn't for everyone, the opportunity to spend an extended weekend surrounded by likeminded individuals in the desert contributes to the uniqueness of the experience. Car camping, while an added cost to the initial ticket price, is a priceless addition to what makes Coachella what it is. Think of it as having the ability to have a pre party and after party ready to go if you and your crew is up for it. Drinking, barbequing, napping, all made accessible and convenient.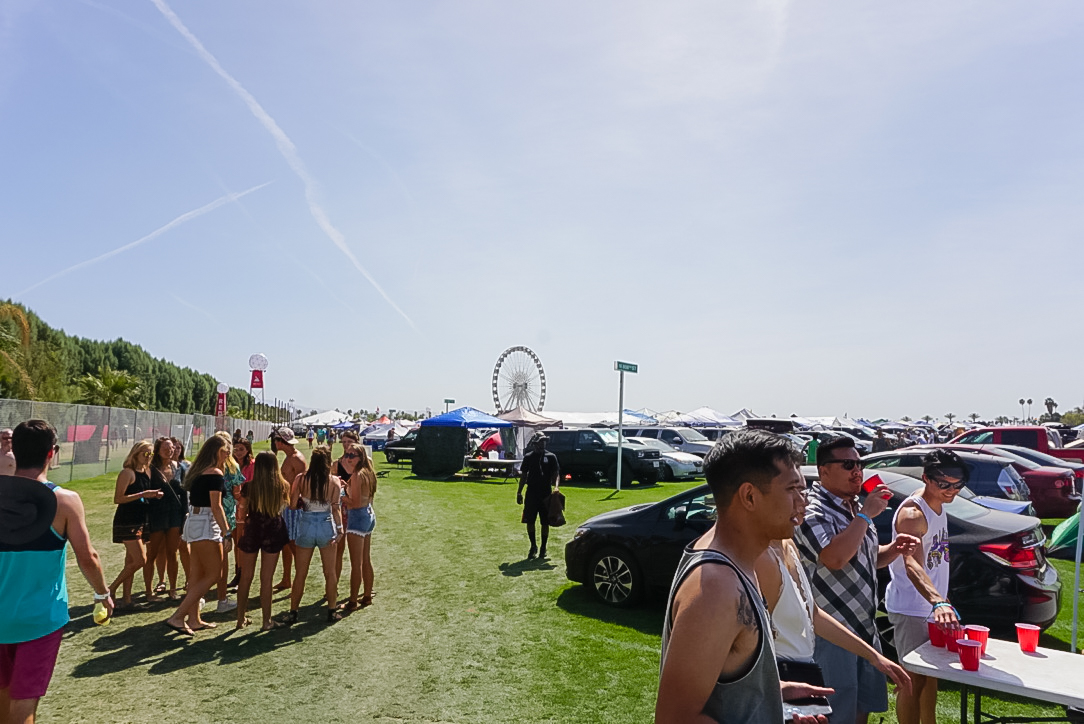 Art Installations
One thing that separates Coachella from many other music festivals are the various large scale art installations posted throughout the grounds. Aside from their commanding presence, they are both eye catching and insta-worthy. Don't trip, we won't judge you if you happened to take a solo shot in front of the "Besame Mucho" sign¾in fact, we applaud you! That took courage and all the fucks you had to give. Between that and Philip K. Smith III's "Portals" alone, there were plenty of opportunities for sick back drops to pose in front of.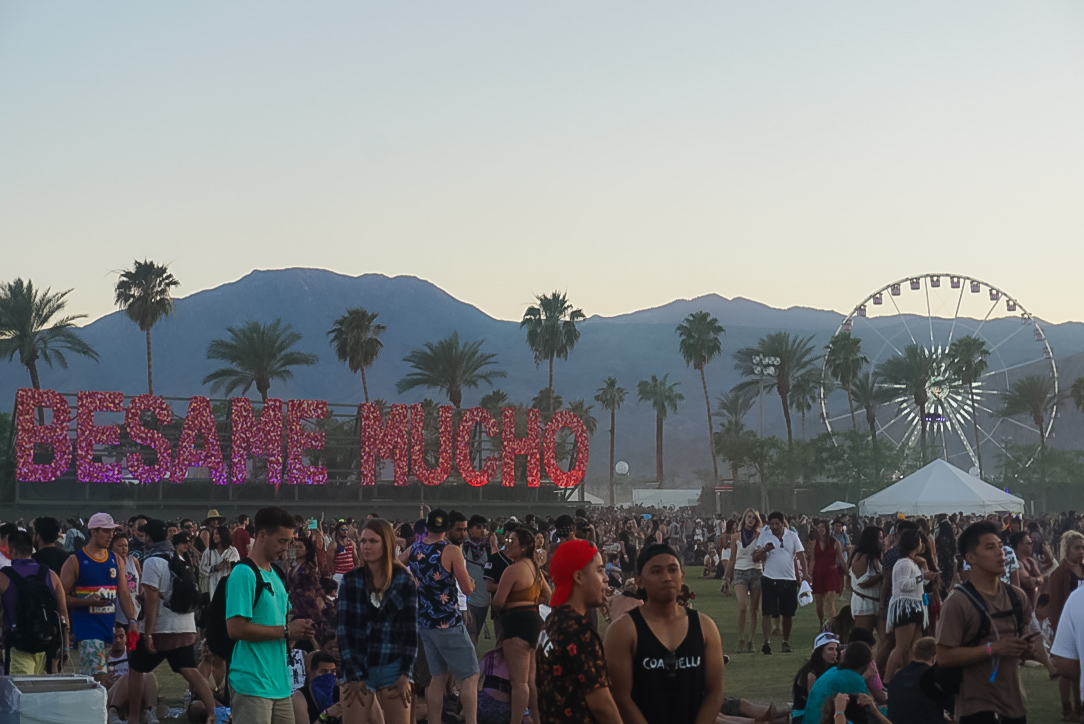 The Fashion
If you haven't noticed from the festival's growing media attention over the last several years, Coachella is more than just a simple music festival, it's a place for people to see and be seen. Despite the desert's alarming temperatures driving people to dress as comfortably as possible, there are many sartorial mavens that brave the heat and pull out all the stops. After all, Coachella is the festival of choice for so many world-renowned supermodels, musicians, actors and actresses. It would be a common occurrence to see the Kardashian/Jenner clan, DiCaprio, Rihanna, and other A-listers in the VIP pit or wandering around the grounds. Even when you discount the celebs, there are still quite a number of fashion bloggers, influencers, and media that storm the desert with their dopest 'fits.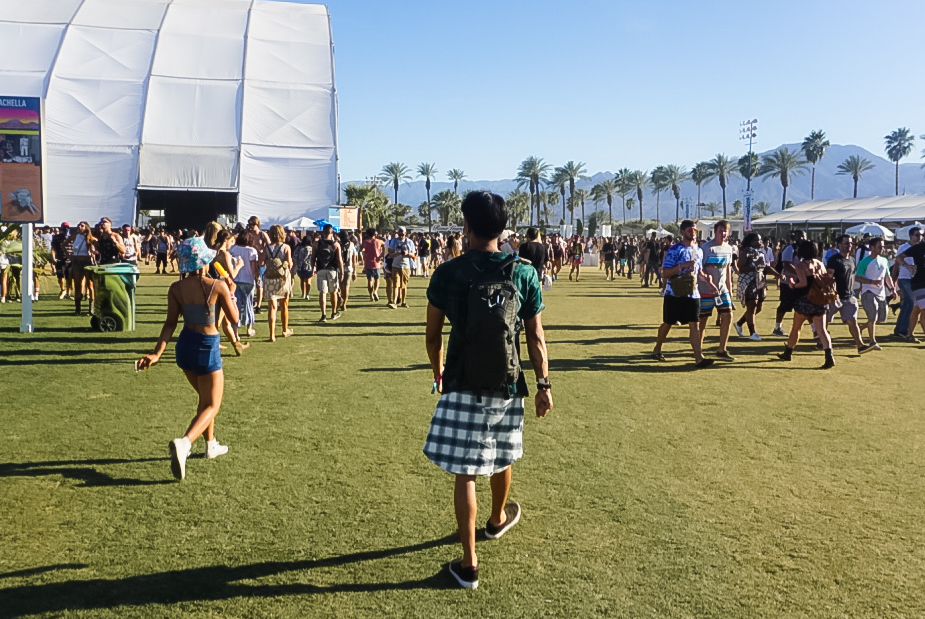 The MUSIC!
Despite Coachella's other alluring aspects that help make it one of the most popular music festivals in the world, their musical line up sets the tone for the rest of the season's festivals. Coachella 2016 featured many artists spanning a wide range of genres, and was headlined by LCD Soundsystem, Guns N' Roses, and Calvin Harris. The festival does a fantastic job giving newer artists a platform to cultivate their following, with past artists such as The Weeknd, Frank Ocean, Kid Cudi, etc. going from the lower ranks to the top of the marquee. This year boasted an array of artists performing memorable sets with plenty of special guests to keep the crowd on their toes. From Kanye's appearances at A$AP Rocky and Jack Ü, to Ice Cube and N.W.A., Halsey bringing out Panic! At the Disco's Brendon Urie; not to mention Lido's and Sia's¾ and Guns N' Roses' epic three hour set. Every year, it's hard to be disappointed because there is always something at Coachella that you're not going to experience anywhere else.
Coachella 2016 was definitely a memorable experience…even if some moments were a little on the blurry side. The time in the desert alone makes it a worthwhile experience every year, despite what people might think about the musical lineup. The art, people and atmosphere alone create an ambiance that you can't get anywhere else, and only a few festivals in the world can compare. If you didn't make plans or failed to make it out this year, there's always next year…or you can hit up one of the festivals mentioned above.