Kid Cudi performed at The Palladium in the heart of Hollywood on Monday, February 22, 2016 in front of a couple thousand people. The standing room only venue sold out months in advance despite his decision to postpone his show from the original December 20, 2015 date. Needless to say, the venue was already rocking with excitement at least an hour prior to his appearance, given the loud outbursts of "Cudi! Cudi!" whenever the background music would die; indicating Cudi's possible emergence from the shadows.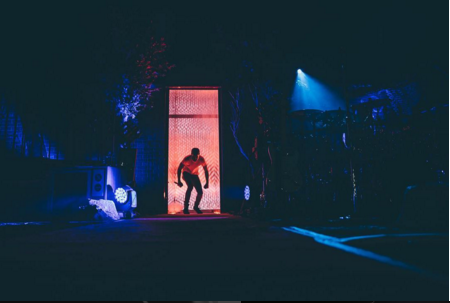 I'm a firm believer in the idea that an artist's fans are a direct reflection of the artists themselves, and Kid Cudi fans are absolutely a prime example of that. The Man on the Moon has such an enigmatic, positive presence on stage that gets reflected on the crowd. He just sends positive vibes and energy through the whole arena. It's interesting to experience personally, especially since his whole persona is this hippy/"love everything" kind of guy. To put it simply, Kid Cudi has a sort of "give love, and you get love back" mentality that somehow seems to appeal to everyone in the room.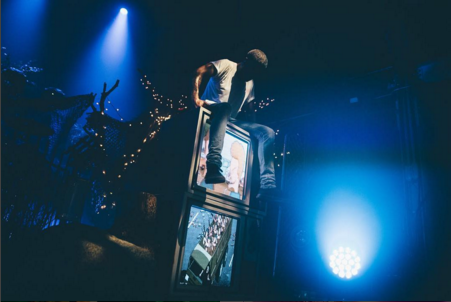 From my point of view (which was at the rear of the standing room floor where there was air space), I was able to assess the black hole of exuberant fans from a safe distance while enjoying my overpriced cup of IPA.  From opening with "Man in the Night" off his latest indie/punk inspired Speedin' Bullet 2 Heaven, I would pick up on the lyrics reverberating within the crowd steadily increasing in volume.  Granted this album appeals to a smaller niche of Cudi fans, it was surprising but pleasing to hear the echoes from within the pit.  Where the show really took flight was when he played the timeless classics.  From: "REVOFEV," "Erase Me," "Soundtrack 2 My Life," "Memories," and "Pursuit of Happiness," the vibes in the house were 99.9% positive (it would be 100 if it weren't for the intoxicated belligerence of  a couple individuals).  Looking around, it was evident with all the undeniable smiles from the faces that I could see, and from the few beer drinkers saluting the man on stage with their cup of alcohol and 'cheers-ing' it amongst one another.
It felt right that he ended the night with "Love," a track that was supposedly left off Satellite Flight.  The song left the crowd waving side-to-side in cult fashion, leaving us with a sentimental, encouraging feeling, as he sang the hook repeatedly.
Although he's on the final leg of his "Especial" Tour, you might still be able to catch him in Santa Ana, San Francisco, New Orleans, or Phoenix.